| | |
| --- | --- |
| (Date Posted:07/27/2010 12:30 PM) | Share to: |
One year ago today I was letting Thor go. I still miss that old man. It so unfair that his body wore out before i was ready to let him go. I still wake up and roll over looking for his big head on my pillow.
I still cannot put his pictures up yet. There is still too much pains. Will it ever go away?
The first time I saw him was at the breeder he was 10 weeks old. I can still see his big head looking up at me. He was the first merle dane I ever saw. It was his head that I fell in love with. He has the most soulful eyes.
I look at Freja and worry about the day she will be gone. She is slowing down. I know it will not be too long before I will be daneless.
I wish I could turn back time to when I was chasing them out of the berry patch. They both loves to help themselves to the berries. The two was the perface couple, Freja was the brain and Thor was the muscle. There was very few things they could not get into.
I even missed fighting Thor over the socks. I bet that he ate over 50 socks during his lifetime.
I sorry this is long but I just missed him so much. I do hope that next year will be les painful.
This is the Thor I still misses.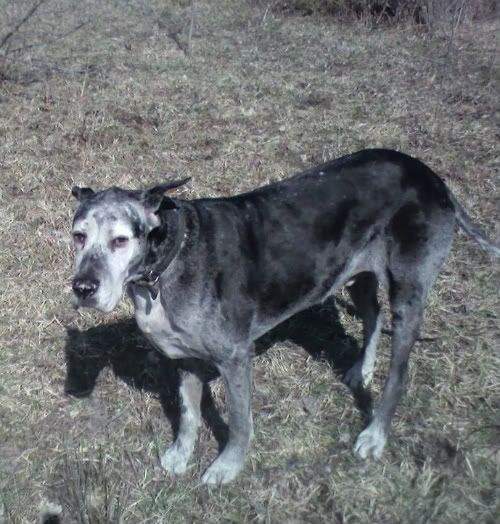 --------------------------------------------------------------