RESULTS FOR 4-23
Dutilly honors Lindley with dominating victory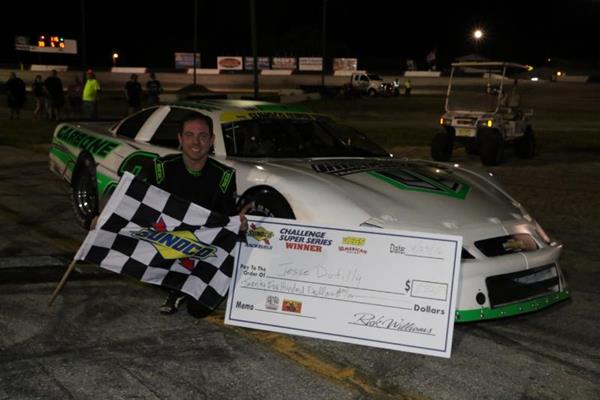 by Scott Lockwood
Not even six months away from Desoto Speedway could slow down Jesse Dutilly.
Dutilly, who won several Super Late Model starts over the course of the
2015 season at Desoto, took the lead on a restart just prior to the halfway
point and drove off to the victory in the Sunoco Challenge Series'
Remembering Butch Lindley 115. Lindley was a former NASCAR competitor who
was severely injured in an accident in an All-Pro Series Race at Desoto
Speedway in 1985.
A four-car inversion put Jonathan Guy on the pole and fast-qualifier Joe
Boyd on the outside of the front row for the 115-lap main event. Winchell
and Guy battled for the top spot for the opening laps, with Winchell
grabbing the top spot at the end of the ninth lap.
Dutilly got by Guy for second on lap 12 and began cutting down on
Winchell's lead. He caught Winchell at the 20-lap mark and spent the next
27 laps stalking the leader around the 3/8-mile oval. Boyd joined the lead
battle and right behind the lead duo when the caution flew for Mike
Franklin's spin on lap 48.
Dutilly used the outside line to his advantage and took the lead from
Winchell on the lap 52 restart.
"That was my chance," Dutilly said. "Joe was racing me awful hard – which
he should have been since he was in the lead. I thought I had him a couple
of times before, but he just shut the door on me. That's good, hard short
track racing."
"It's an honor to lead these races and when you get someone like Jesse
behind you, you don't want to roll over for them," Winchell added. "I
wanted to make him work for it...and I did."
The Bradenton driver was over a mile per hour faster than the rest of the
field and had built nearly a straightaway lead before another caution flew
for an accident involving Richie Anderson and Tyler Scofield on lap 65.
Boyd moved to the outside for what would be the final restart on lap 68,
but Dutilly got away at the flag and used lapped traffic to pull away from
Boyd over the final, caution-free 47 laps on his way to the win.
"The car was just awesome tonight," Dutilly said in victory lane. "We
couldn't be more excited. These guys are getting faster and closing the
gap."
Winchell, Guy and Devin McCleod rounded out the top five.
The Desoto/Auburndale Sportsman Series was also on hand for its first
appearance of the season in the No Drama, Just Fast 50-lap feature. Just
three laps into the event, Mike Smith and Earl Beckner got together just
behind leader Brooke Storer and triggered a major crash on the front
stretch that involved at least half a dozen cars, including fast qualifiers
George Gorham and Jason Rendell. All drivers involved escaped injury.
Patrick Thomas got by Storer on the restart and was quickly joined at the
front of the field by Colin Allman. The pair ran side-by-side in a battle
for the lead for a couple of laps before Allman cleared Thomas for the top
spot on lap 12.
Allman survived a couple of restarts and led the rest of the way on his way
to the win. Thomas was second, while Storer held off Roger Welsh and
Roberth Kuhn in a battle for third.
In other action Saturday night, Jeff Firestine led from green to checker on
his way to the win in the 25-lap Take Aim Gun Range Street Stock feature;
Kenny Gibson helps off a late charge from Carl Thompson to win the 25-lap
Bomber feature; and Blaine Baer took the victory in the 25-lap LKQ
Pick-Your-Part Pure Stock feature.
Desoto Speedway is closed next weekend and will return to action on May 7
with the twin 50-lap features for the ADMO Open Wheel Modifieds along with
40-lap features for the Street Stocks, Pure Stocks, Modified Minis, Mini
Stocks and Outlaw Modifieds.
Sunoco Challenge Super Late Models 115

1. 30 Jessie Dutilly
2. 5 Joe Boyd - Fast time
3. 15 Joe Winchell
4. 42 Johnathan Guy
5. 21 Devon McCleod
6. 128 Dylan Bigley
7. 51 Michael Atwell
8. 20 Anthony Sergi
9. 8 D.J. Hoezle
10. 25 Paul White
11. 15l Sean Lemaster
12. 57 John Coffman
13. 07 Tyler Scofield
14. 51r Richie Anderson
15. 12D Mike Franklin
16. 56 Robert Ford
17. 28 Billy Bigley
18. 13 Scott Walter D.N.S.
19. 14 Martin Maresca D.N.S.
20. 67 Colin Allman D.N.S.
21. 38 Shane Sawyer D.N.S.

Sportsmans

1. 67 Colin Allman
2. 111 Patrick Thomas
3. 9 Brooke Storer
4. 98 Roger Welch
5. 78 Robert Kuhn
6. 16 Tim Sozio
7. 111b Josh Borem
8. 172 Joey Sims
9. 71 Earl Beckner
10. 45 Mike Kerrivan
11. 4 Rick Reed
12. 25 Timothy Todd
13. 10 Jeff Firestine
14. 28 Mike Smith
15. 157 Jason Rendell
16. 03 George Gorham

Street Stocks

1
. 10 Jeff Firestine
2. 7 Danny Caylor
3. 11 Travis Barfield
4. 91 Ander Jackson
5. 93 Kenny Gibson
6. 4m Matt McCreary
7. 74 Bobby Huffstutler
8. 01 Bobby Diester
9. 4p Donnie Powers
10. 20 Claudio Reyes
11. 75 Garrett Thompson
12. 51m Scott McKay
13. 92 Ted Head
14. 88 Brandon Duchscher
15. 51c Jarrett Cornell
16, 40 Scott Finch
17. 12 Jimmy Frazer
18. 63 Kyle Best
19. 23Todd Brown
20. 27 Chris Oliver D.N.S.

1. 7b Blaine Baer
2. 17 Ryan Meiser
3. 3 Sherry Best
4. 72 Roger Dufrense
5. 42 Bill Osborne
6. 57 Aaron Holmes
7. 38 Jeff Gustafson
8. 7x Josh Todd
9. 57L Logan Leonard
10 67 Jimmie Best
11. 51 Scott McKay D.Q.
12. 9 Bronson Lawson DNS
Bombers

1. 23 Kenny Gibson
2. 75 Carl Thompson
3. 42 Randy Radley
4. 382 Zach Briggs
5. 88 Jamie Castleberry
6. 14 Adam Briggs
7. 22 Ann Marie Ricardi
8. 05 Buddy Phillips
9. 38 Nick Malverty
10. 57 Aaron Holmes
11. 63 Kris Bridges
12. 7TJosh Todd
(Message edited by Florida_Cracker On 04/23/2016 4:49 PM)