Celebrate me, or I shall sit on you!
I did bite off more than I could chew
But such majesty never bids adieu!
Been 500 years since my debut
And I'm still the king, tis true, tis true!
Or there'd not be such a ballyhoo
About all the stuff I got to do
I married Kate and made her blue
Well, I got no son, what's a king to do?
Out with the old and in with the new!
Got rid of Rome and popery, too
Moved on to Queenie Number Two
With codpiece full of English yew
I swived Nan Boleyn with much ado
Did I get me a lad when I was through?
Another princess! O boo hoo hoo!
Now that I don't take kindly to!
So I lopped her head right out of view
And found me a chinless wench to screw!
Soon Queen Jane's belly swelled and grew
And out a prince the wench did spew!
A son! A son! Oooo oooo oooo oooo!
You think I care if Death was due?
So long, thanks, Jane, I got a queue
Stretches all the way to Timbuktu
There'll be no problem replacing you!
Get me a spare like I'm supposed to do
Which fair princess shall I dip into?
That wench from Cleves ain't got a clue
I like her not, Anne smells like poo!
Tis mighty hard to bill and coo
Methinks a Howard wench might do!
Come hither, Cate, and Cleves undo
My thornless rose to me be true....
Hey! Be that Culpeper's mitts all over you?
That's mighty hard to misconstrue
Tis time for Tower Green, Part Deux!
Think you that was wise to do?
But then I had nuffin but vats of stew
Aleberry pudding and chocolate fondue
Turkey legs and lamb chops, too
Bandaids that be oozing goo
I shouldn't've got that joust tattoo
Bowels rumbling on the loo
Purges flowing through and through
And piles of paperwork in reference to
Dissolving monasteries and judicial review
Can't even dance a pas de deux
I'm bored! For a queen I'm overdue
Let's look round Court and see who'll do
Who'd be nice to slip the tongue to?
Cathy, I got a surprise for you!
You passed my queenly wife review
O don't be shy! You'll do! You'll do!
I kinda like the looks of you
Pop in the chapel and say I do!
And stifle your religious view
Or I'll sic Gardiner on you!
Nurse me as you be wont to
I'm way too sick to get sick of you!
Another wench I'll not pursue
Cathy gets the whole wazoo!
So even though I'm dead, know you
I got high marks on king's review
And all the rest I did outdo
No one else could squizzle through
Outranked em all and did subdue
Brushed aside and overthrew
I'm the guy you all stick to!
You love me and you know you do!
My popularity carried through
500 years, that's tantamount to
Saying "Hank, the bestest king is YOU!"
So celebrate me, or I shall sit on you!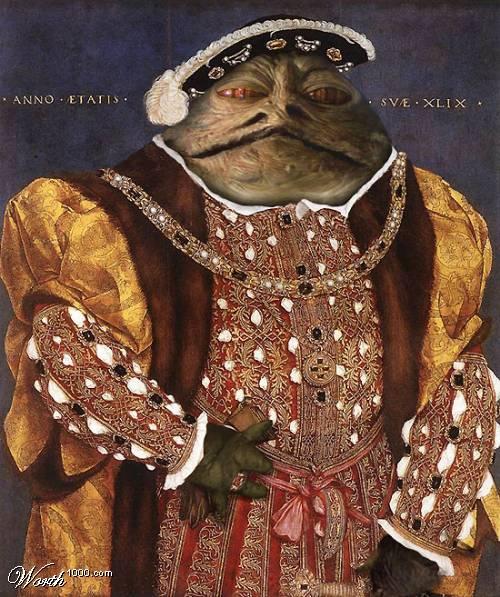 stealing some of Painter's thunder LOL
Hey, where did muckypup get to? There was groatworthy poetry outta that peep as well
(sighs at how many MSN peeps missed da bus)