In Rememberence
W.H.Brewer


Sunrise May 6th...1944
Sunset May 1st....2008
Services May 6...2008
"End of the trail, an End of the Old ways of life.....freedom to hunt and fish!
"Creator looked around his garden and found an empty space
He then looked down upon his earth and saw your loving face..

He put his arms around you and lifted you to rest
His garden must always be beautiful, so he takes only the best.
He knew you were suffering and he knew you were in pain.
And knew you would never get well on this earth again.
He saw your path was difficult, he closed your tired eyes
He whispered to you" Peace is now" and gave you courage to fly.
Now we see you sleeping so calm and free of pain

We would not wish you back to earth to suffer once again
You left me precious memories,your love will be my guide
You live on through your family,
you`re always by my side

It broke my heart to loose you but you did not go alone
For part of me went with you the day Creator took you home.

xxxxxxxxxxxxxxxxxxxxxxxxxxxxxxxxxxxxxxxxxxxxxxxxxx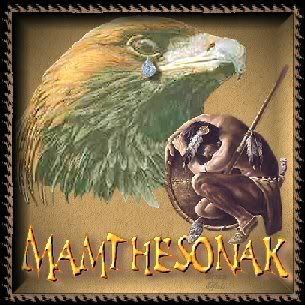 ***************************************************
Always remember, death is nothing to worry about
I have only slipped away for a while
I am still me & you are still my special you
What we were to each other, we still will be
Call me as you use to do always
Talk to me in that sweet way you always did
Make no difference in your voice
And not a sad word shall be said.
Laugh with me as we use to always laugh
Let me remember the fun times we had together
And let my name be spoken as always
Even though I out of sight , but not out of mind
I am waiting for you here, just around the corner
I am here, my love just as I have always been
Not with a trace of sadness as we are still together.
Your life you must make , as you always promised
And this I will know.
****************************
We missed you today.......and will love you always. My brother, special friend ,and one we loved so much.