Just about 5 years ago, my Heart Ferret, Erika, was killed by a neighbor's dog. The next day my ex brought home Alice. A week later, she saw a client that had a little sable in a small cage. It turned out that their 12 year old daughter wanted a ferret but after 2 weeks was losing interest in caring for her. She was only 3 months old, skinny and a bit oily.
Carol came home and immediately hit it off with Alice. In fact, she got along with every critter she ever met,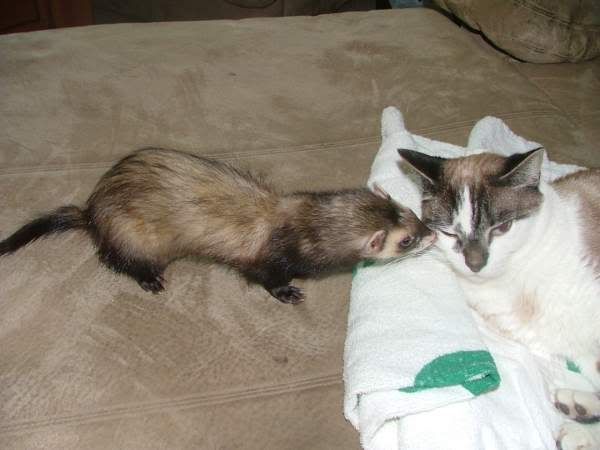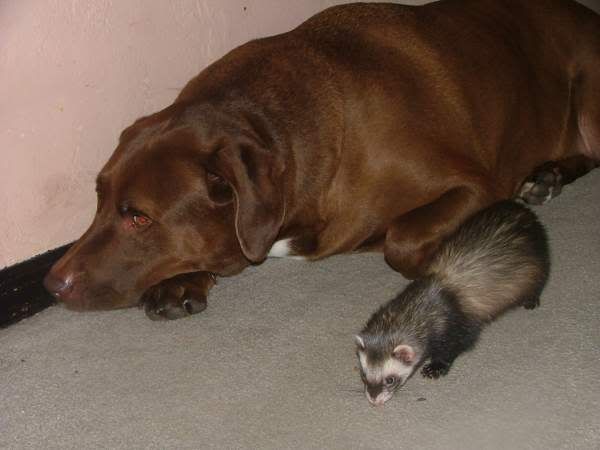 as long as they recognized her authority. She was no despot, and allowed her subjects, at one point totaling 9, to live as they wished. Carol did not fit the mold of ferret as carnivore. Her favorite foods were potatoes,
sweet peppers (any color), cucumbers and melons (any melons).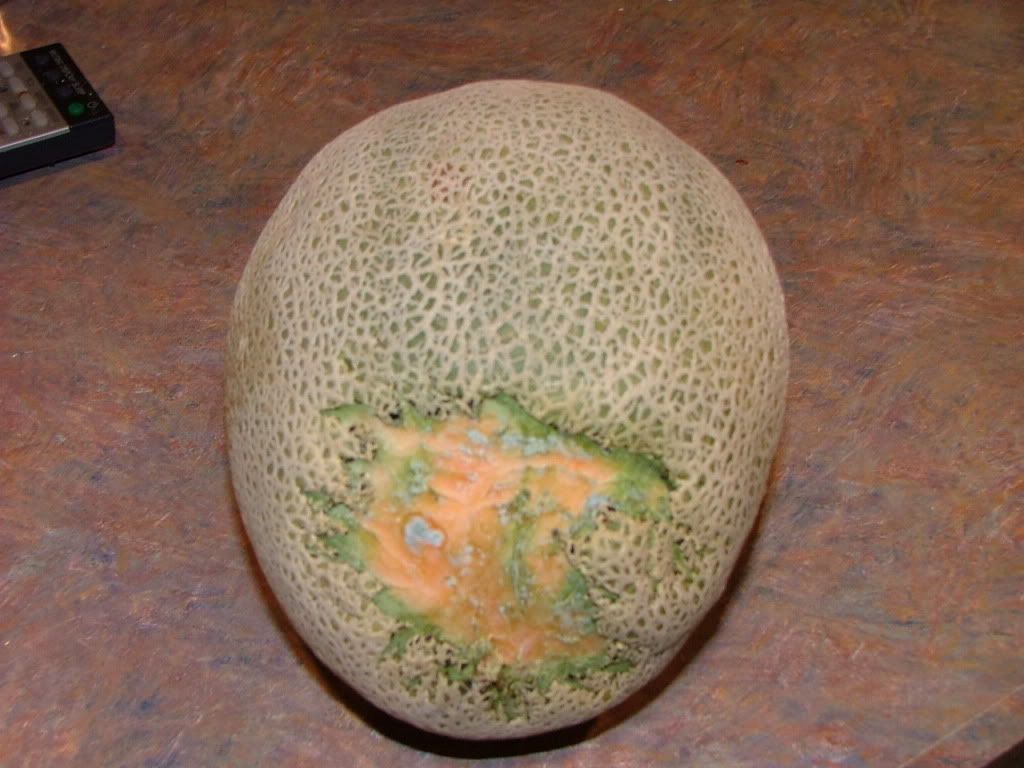 Of course, she had to eat these in moderation and in secret, in order to maintain not only her public image as a meat eater, but also her girlish figure.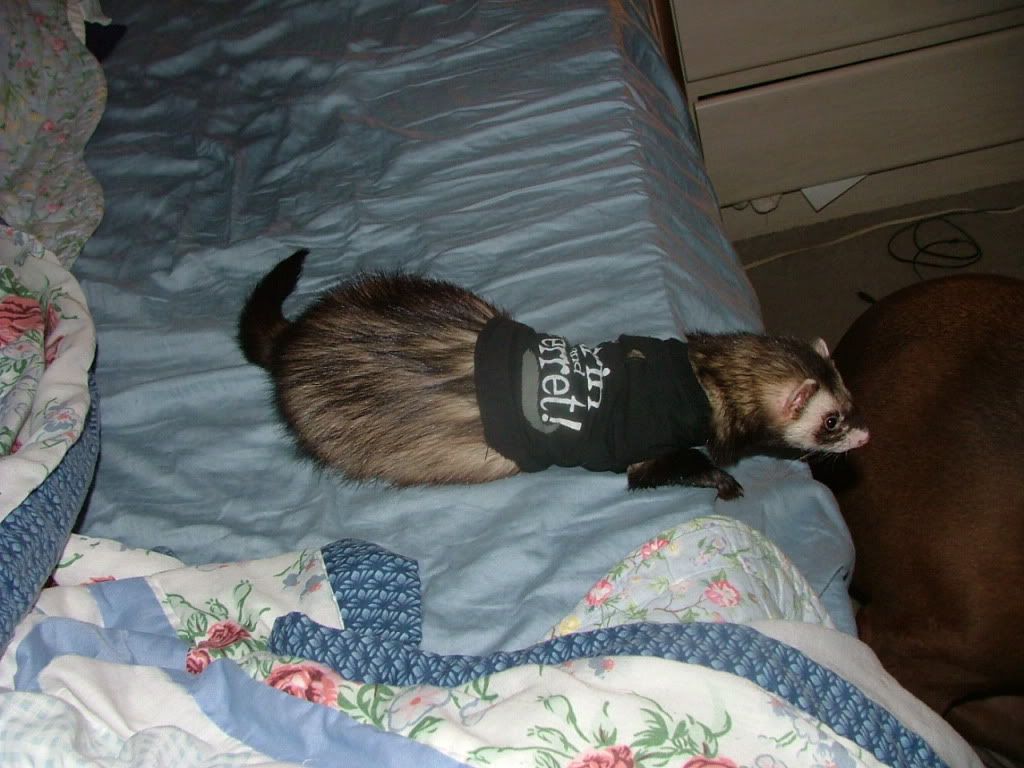 Carol's hobby was spelunking. At her former residence, she discovered a tunnel that had been made by a toad that had lived under the front porch for a year. She began her cave exploration career by ousting Mr. Toad from his residence and relocating him to my closet. Dead, of course. His cave turned out to be too small, so she enlisted the help of her fellow ferrets and eventually excavated 15-20 gallons of sand from under the porch and added an second entrance.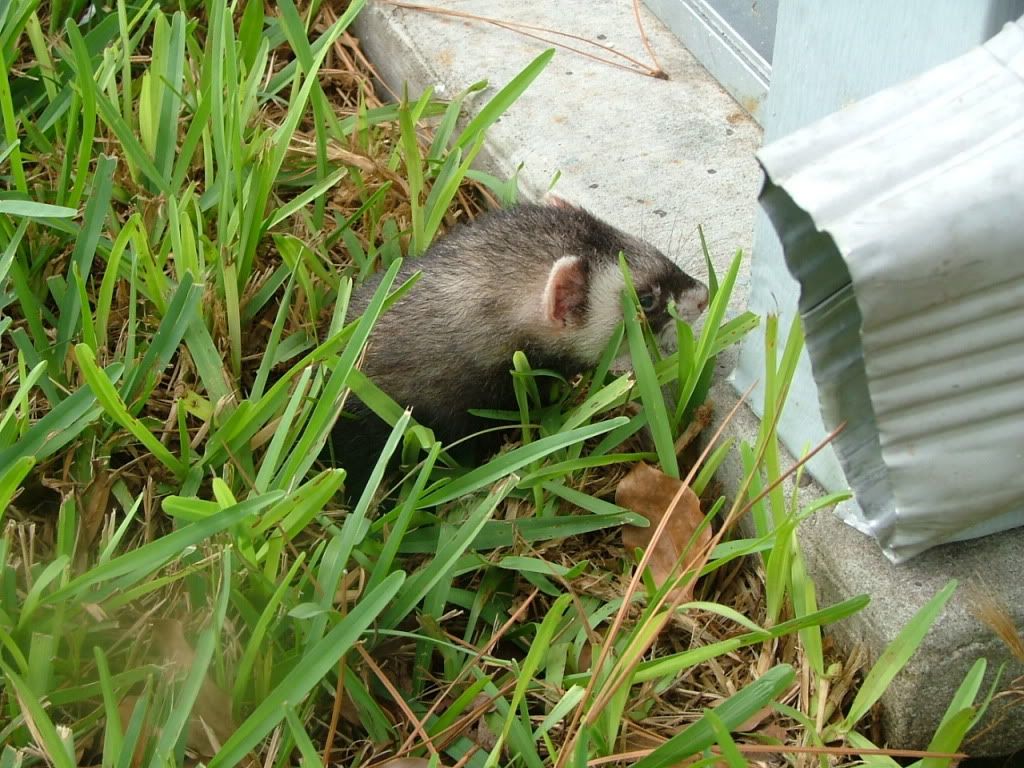 Her adventures were not limited to the front garden. She had a terrific curiosity for places unseen, both big and small, and she could "weasel" her way through the tiniest crevices. She went on many solo expeditions, but always came home. For a time, her nickname was "Sputnik," Russian for Little Wanderer. One afternoon, a neighbor 3 Doors Down was watching TV when he saw her trotting across his living room floor. The fact that she was so far from home was an enigma that was secondary to her means of entry to a home she'd visited before with her Daddy escorting. When her step-mom, Dar, brought her business of fuzzies from Canada, Dar was not very impressed with the little sable, having heard stories of theft and escape. But it only took a couple months for her to fall in love with the Mistress Heart Thief. By this time her name had evolved to Carolly-Pop because of her energetic war-dancing at play, and the way she would pop up out of a sound sleep for a bout of frenetic scratching, so Dar changed it to Poppy. She was so taken that she commissioned a sculpture of Poppy for a gift to her Daddy.
This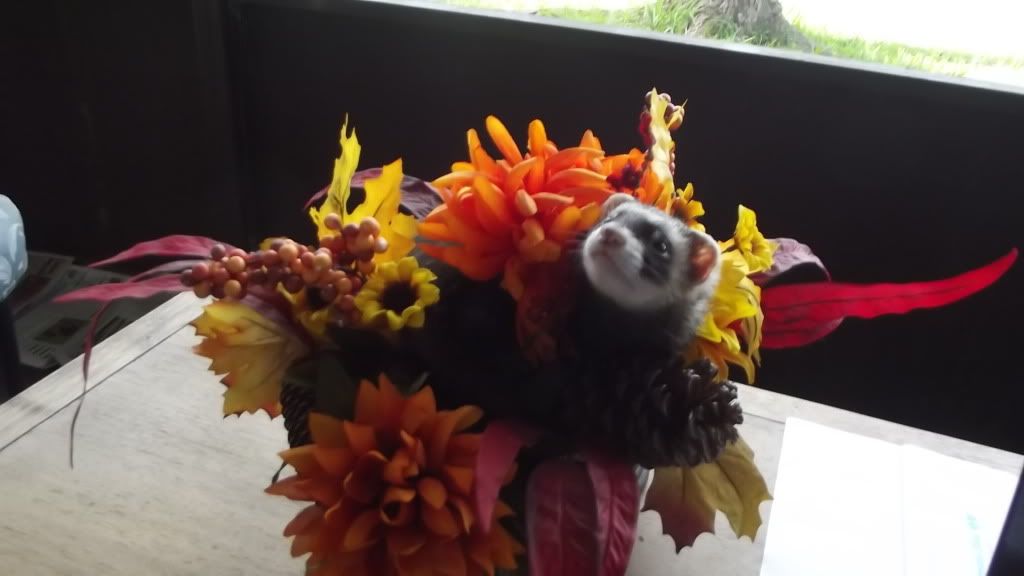 inspired this
Treat times will never be the same without her jumping from the floor to printer to couch to make sure you can't miss her, even after she's had more than the rest. She was the first ferret out of 22 that would fall asleep while being held.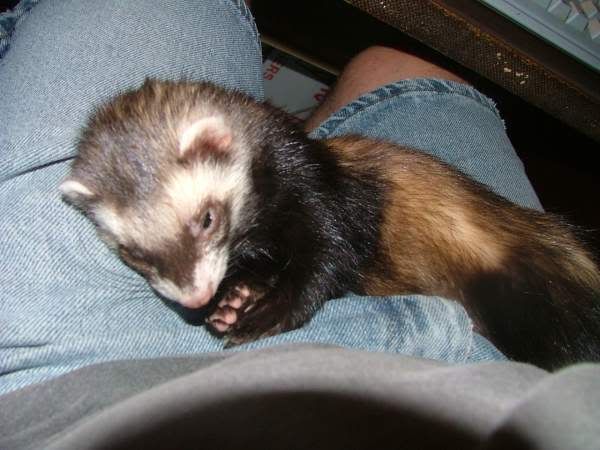 She spilled more drinks, disassembled more centerpieces,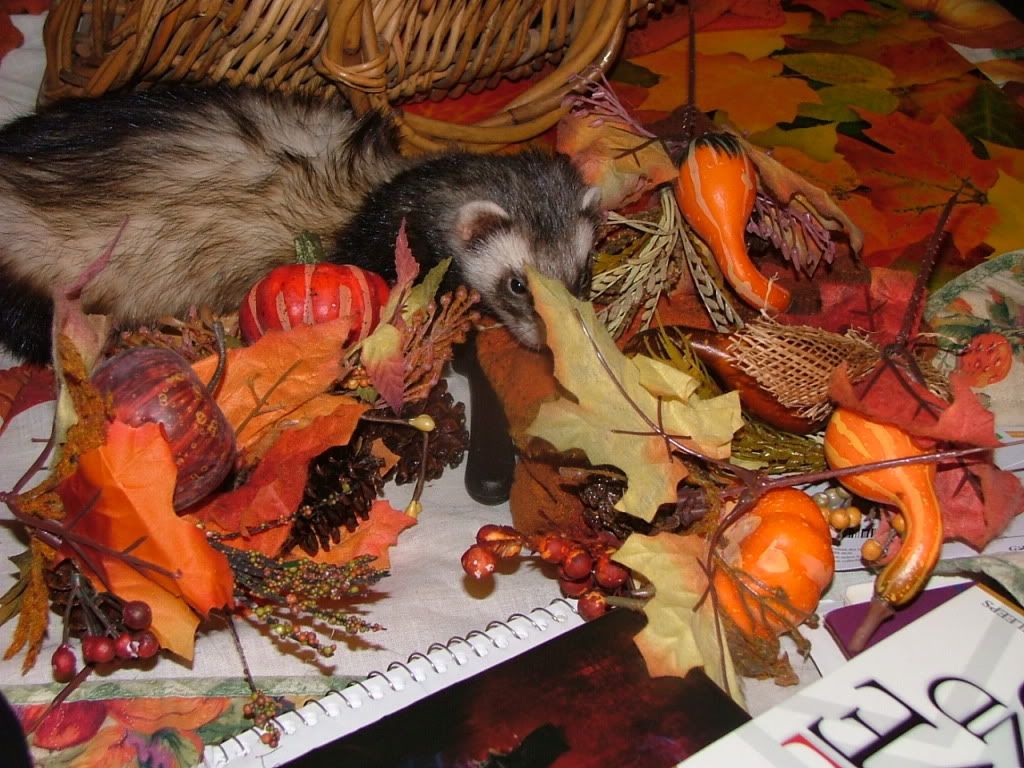 hid more remotes, and uprooted more house plants than all of her cohorts combined. Daddy also spent more hours searching for her at bed time than the other 21 combined. She was a master of finding new sleep spots, and totally ignored the squeakies unless she was ready to be found. It took a year of living in this house to be confident enough that she hadn't found a new escape route and be able to sleep knowing she was sleeping somewhere inside. A hundred stories, all with happy endings, until now. But now I know where she's sleeping… I would have buried Poppy with a remote, her favorite swag, but to be eco-friendly I gave her a potato to crunch on her journey to the Bridge. As for Daddy, he wishes he could be online buying Kimberly-Clark stock between breakdowns, because the price of Kleenex is about to go through the roof. Maybe one day he and Dar could use the proceeds to fund their dream shelter. As much as we love all of her fellow fuzzies, she will never ever be forgotten or replaced in our hearts. If she had been our last ferret, she would have been our last ferret. But we must go on for the rest. The lessons we take out of this are 2 we already knew. Ferrenting is hard. Nothing is minor. Our combined research and experience was not enough to save you, because we got complacent, if only for a moment. Poppy, there were so many times I wanted to spank you for being so bad, but now Dar and I would give anything for you to spill my coffee on the floor we just mopped or poop in a corner where we just picked up the papers. So unfair… So unfair to the others to look at them and think, "Why her? Why not you?," because you were such an intricate part of who we are. I don't want you to dook in peace. That's not you. Instead, hiss at all of your cagemates at the Bridge to let them know you are all missed and loved forever. We will never be the same.