Are you sure you want to sign out?
Delete Message
Are you sure you want to delete?
Title:Similar Forums
Views: 834
Author
From:
Australia
Registered: 11/11/2008
Date Posted: 19/07/2011 2:51 AM
From:
Australia
Registered: 11/11/2008
In the Side Bar, there is a widget called "Similar Forums".
When you create a new forum, Aimoo's system selects five forums from the same Category in which yours is listed. They are shown in the Side Bar and of course, they are links to those forums.
You can edit these by clicking on "Edit" against "Similar Forums".
You can only show Aimoo Forums
, no other websites, but they can be from other Categories other than the one in which your own Forum is listed.
After clicking on "Edit" as above, click on Similar Forums.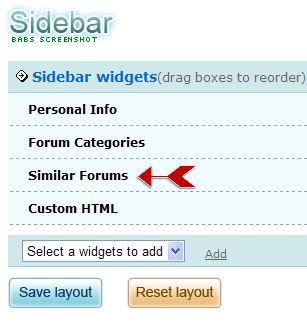 You can change the title of "Similar Forums" to something else if you prefer. I changed mine to "Other Forums" but you could call it "Recommended Forums", or whatever you like.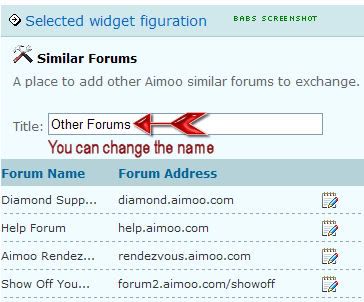 Click on the Notepad & Pencil icon on the right of the Forum you wish to change.
In the first box, type in the name of the Forum.
In the second box, insert the Aimoo

address/URL.
To ensure no errors, it's best to copy the URL and paste it in, rather than typing it.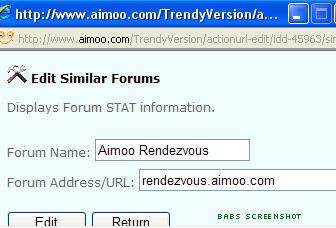 Keep doing this until you have done all the ones you want to edit.
If you want to add another Forum, click on "Add New Forum".
Type or paste in the information and click on Add.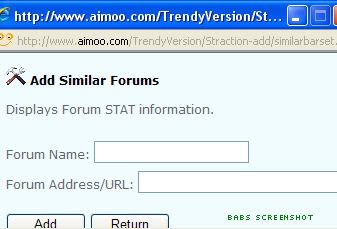 In a Diamond Forum, you can have less than five Similar Forums if you want, or turn it off completely.
To turn it off, left click on "Similar Forums". On the right click on "delete widget".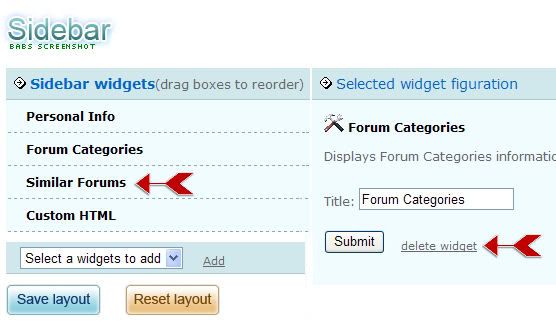 You can add it back later if you want to. Click on the down arrow against "Select a widget to add" then click on the one you want to retrieve.
This applies to any widget you have deleted. It is never gone completely, it just won't be visible.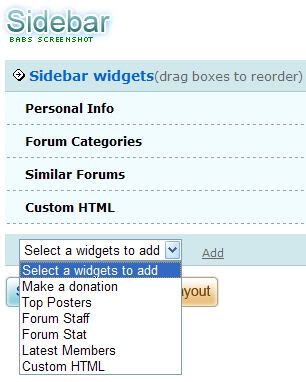 Date Posted:19/07/2011 2:53 AM